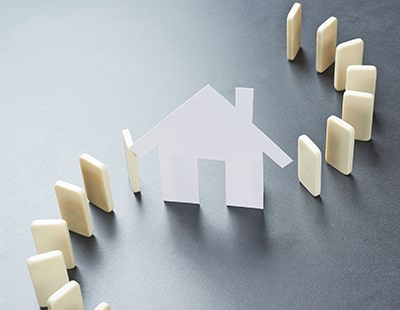 Stamp duty holiday extension - This horse ain't dead yet
Jan 09, 2021 - 12:00
Just a week ago, I thought it was all over. Christmas and New Year had gone, as had the passionate calls for the stamp duty holiday to be extended.
Those calls had provided me with many stories in the build up to the festive season but surely, by the time January rolled around, it would be difficult for the pleas to continue - if Sunak was going to do it, he'd have done it by now.
But then something changed: Lockdown 3. And with that, three new reasons emerged as to why the Chancellor may yet extend the March 31 deadline.
Firstly, more people are working from home - again.
Office for National Statistics data shows that in April 2020, 46.6 per cent of all those in employment did at least some work from home. That reduced significantly over the rest of the year, down to below 30 per cent by December.
But now Lockdown 3 is set to take the working-from-home percentage to over 40 again, with office-based staff (conveyancers and planners for example) first in line for working from home, especially if schools are closed and they have to keep an eye on the kids.
Employment studies suggest that while individual productivity often improves amongst home-workers, so-called chain activities - where one person passes on data to another person as part of the work process - slows down. And that, of course, is why transactions can slow down, making the cliff-edge deadline of the stamp duty holiday a real problem.
Secondly, there's the question of fairness.
People have quite reasonably done their bit - buying, selling, conveyancing, searching - in the reasonable expectation of meeting the March 31 deadline. But if lockdown leads to them missing the deadline, why should they suddenly be on the wrong side of it?
London agent and former RICS guru Jeremy Leaf got it right, saying: "The new lockdown will have some impact on surveyors, removals firms etc and in the circumstances, it would be prudent for the Chancellor to reconsider the stamp duty deadline. Those who have moved heaven and earth to meet the deadline should not now be penalised if they miss it through no fault of their own."
So what about a tapered finish to the holiday? Let's say if anyone has accepted a mortgage offer by March 31, they should be able to complete their purchase and take advantage of the SDLT holiday. That would be fair, without encouraging more and more buyers.
Thirdly, there's cheerfulness and image.
Does Rishi Sunak - with a carefully cultivated persona of being efficient and a financial saviour during this most unpredictable and worrying of times - want to appear downright mean and unfair to the thousands of buyers whose transactions fall foul of the cliff-edge?
George Franks, another London agent, puts his finger on it: "Extending the stamp duty holiday is a way for the government to give people something to cheer about when there's so little to cheer about, as public sentiment and the property market are closely related."
Not everyone will buy that £15,000 off a home costing, say, £450,000 is the definition of cheerfulness. For sure, The Guardian would say it's the well-off making the well-off feel better. But a simple phased extension would make sure no existing committed buyer misses out - and the result? Happiness, at least in the short-term.
So I've changed my mind. I've been persuaded that arguing for a stamp duty extension is no longer flogging that dead horse - to mix metaphors, I'd say the idea still has legs.
Here's one way to push the Chancellor a little more - by signing this petition.
Let's talk about this again in the next few weeks, and see if Sunak changes his mind, too.
Link to original source: https://www.estateagenttoday.co.uk/features/2021/1/stamp-duty-holiday-extension--this-horse-aint-dead-yet